Merry Christmas from Germany!
Christmas is the time for yummy cookies, tasty punch and delicious dinners. We asked our colleagues to reveal their favourite Christmas recipes.
On December 1st, Anna Meier (Sales Assistant Mechatronics Machinery) from Germany, tells us how she makes her favourite Christmas cookies:
SNOWBALL COOKIES
"My favourite cookies are snowballs.
They are soft and yummy and if needed and they have a long tradition in my family: when I was a little girl, my mum showed me how to make them and she got the receipe from her mother.
As long as I remember these cookies are the first thing we baked  during the Christmas time.
I keep this tradition alive:  today, I will bake them with my kids!"
 Here is the receipe  

Ingredients:
1 cup of all-purpose flour
1 1/2 cup of walnuts, very finely chopped
1/4 cup granulated sugar
Pinch kosher salt
1 tsp. pure vanilla extract
1/2 c. butter, chopped and softened
1 c. powdered sugar
How to make the cookies: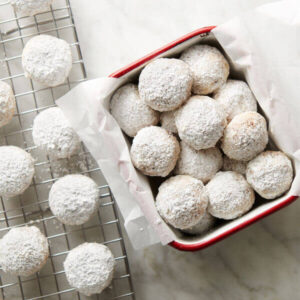 // Preheat oven to 350° and line a large cookie sheet with parchment. In a large bowl, mix flour, walnuts, granulated sugar, salt, and vanilla. Add butter and, using your hands, combine everything until mixture resembles a coarse meal.
// Form dough into small balls and place on prepared cookie sheet.
// Bake 15 minutes
// When they're still warm but cool enough to touch, roll cookies in powdered sugar.
// Set aside on a rack to cool completely. When cool, dust again in powdered sugar.
// Enjoy!
Remark: All statements without guarantee. Mitsubishi Electric assumes no liability with regard to quantities, times and temperatures as well as for the ingredients.
In case of any food allergies, please be aware that the receipes may contain or come into contact with common allergens, such as dairy, eggs, wheat, soybeans, tree nuts etc. Please check this in advance. In addition, temperature and quantity information may differ from country to country.