40 Years - Mazak and Mitsubishi Electric
13.01.2020
Peter Kankowski, Manager CNC Service at Mitsubishi Electric, in conversation with Stefan Müller, Director Customer Affairs at Mazak.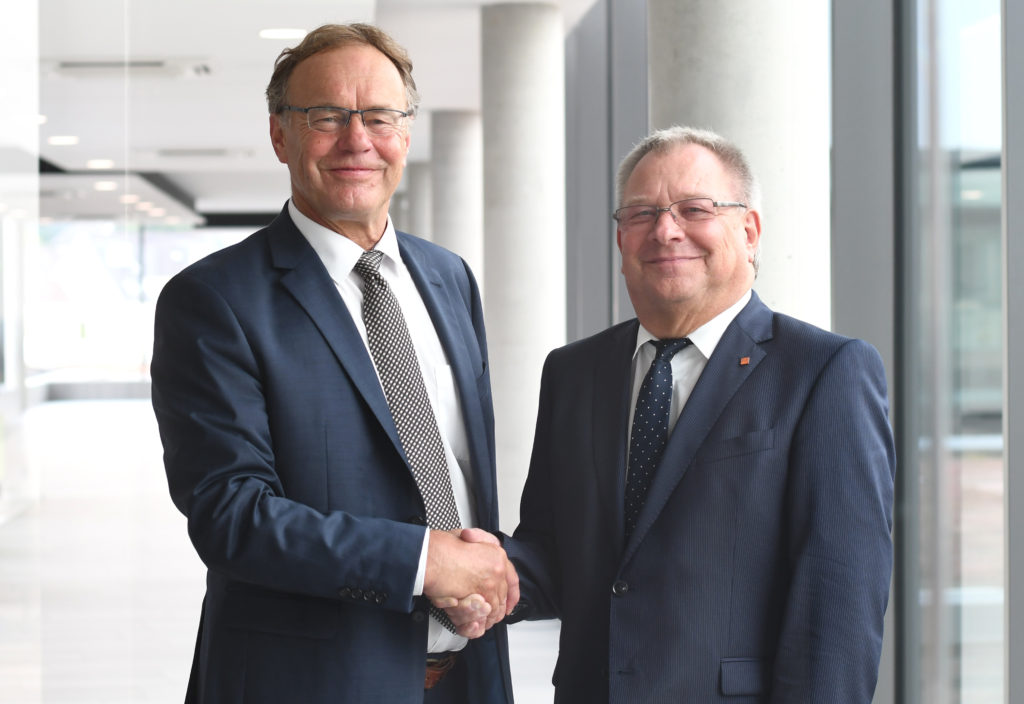 "Our development teams are in daily communication"
Stefan Müller: Our decades of cooperation began when Mazak was intensively searching for a particularly reliable, competent and innovative partner in the 1970s. Together with this partner, the idea of a completely new user-friendly control concept should be implemented. What was attractive for Mitsubishi Electric at that time?
Peter Kankowski: Yes, we had already developed NC control technology in 1956 and we realized that we shared the same demands with Mazak in terms of technology, quality and, above all, a great openness for new ideas. The cooperation started in 1979, exactly 40 years ago. With its groundbreaking result, we made a sensational presentation in 1981 at the EMO in Hanover: it was the Mazatrol T1, the world's first dialogue control.
Stefan Müller: An idea has become reality through our joint development: This control system saved the machine operator complicated calculations of cutting conditions and motion sequences in a striking way. This control thus represented an evolutionary step forward in the operability of machine tools. It was also the first major global breakthrough for Mazak as the world's leading machine tool manufacturer.
Peter Kankowski: This was also the starting point for continuous innovation phases, which we have always pushed forward together with each newly developed control generation. Traditionally, Mazak was already known for its great strengths in machine tool manufacturing, while Mitsubishi Electric contributed its expertise in electronics and mechatronics. The synergies created over the time resulted in a shared working philosophy, which is still actively lived. So even today, both development teams still exchange information on a daily basis.
Stefan Müller: Yes, it was the beginning of a wonderful corporate friendship. Building on this, there were many generations of controllers. Then in 1998 we merged the functions of Mazatrol with those of a PC. We combined all our experience and knowledge to achieve unsurpassed machining efficiency.
Peter Kankowski: In today's world, our customers are confronted with many different challenges. The need to reduce manufacturing costs and increase automation are just a few of them. This is where the now 7th generation – the Mazatrol Smooth technology – will be applied. The use of Mitsubishi Electric's latest CNC-specific CPU with up to 3 times higher processing speeds and an innovative and high-precision drive system sets new standards in in the performance of machine tools.
Stefan Müller: Yes, we have designed the Mazatrol Smooth Technology for an unsurpassed user-friendliness with intelligent functions. All this has only been possible thanks to a good and intensive partnership with Mitsubishi Electric over the past 40 years. With all this, we don't forget to look to the future: the whole world is talking about Industry 4.0, AI and IoT, and of course Mazak and Mitsubishi Electric are jointly engaged in research and development of advanced technologies.
Peter Kankowski: Mitsubishi Electric's concepts for the future such as MAISART (AI from ME), e-F@ctory (approach from ME) or even Edgecross (IoT consortium) are just some of the latest technologies that ensure that the above-mentioned "innovation cycle" continues. Finally, I would like to draw a bow to a new epoch in Japan's history, which started this year, the anniversary year of Mazak: With the accession of the new Emperor Naruhito, the Reiwa era opens in 2019 the next chapter of Japanese history, the era of "beautiful harmony". This harmony should further shape the cooperation and partnership between Mazak and Mitsubishi Electric.