Merry Christmas from Germany!
Christmas is the time for yummy cookies, hot punch and delicious dishes. We asked our colleagues for their favorite Christmas recipes.
On December 3rd, Yasmin Messerer (Administrational Advisor, General Administration @ Mitsubishi Electric Germany) tells us how she starts the Christmas season:

Butter cookies
"Baking butter cookies starts the pre-Christmas season at our house.
The whole family joins and Christmas music plays in the background.
The recipe has been used in our family for generations."
Butter cookies

Ingredients:
750g flour
500g butter
250g powder sugar
3 egg yolks
1 pck. baking powder
1 pinch of salt
Glaze:
2 pck. powdered sugar
approx. 1.5 lemons
100 g chocolate sprinkles or colored sprinkles (to taste)
Preparation:
// Make a kneaded dough from the ingredients and cool for some time.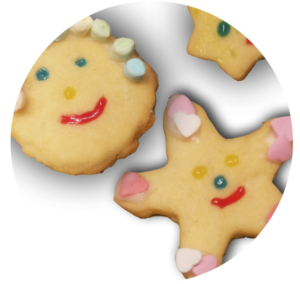 // Then roll out thinly and cut out various forms.
// Bake at 180°C for approx. 10 minutes.
// For the glaze, mix the powdered sugar with the lemon juice and brush the cookies.
// Then decorate.
Remark: All statements without guarantee. Mitsubishi Electric assumes no liability with regard to quantities, times and temperatures as well as for the ingredients.
In case of any food allergies, please be aware that the receipes may contain or come into contact with common allergens, such as dairy, eggs, wheat, soybeans, tree nuts etc. Please check this in advance. In addition, temperature and quantity information may differ from country to country.