Merry Christmas from Belgium!  
Christmas is the time for yummy cookies, tasty punch and delicious dinners. We asked our colleagues to reveal their favourite Christmas recipes.
On December 4th, Mathilde Maes (HR Support at Mitsubishi Electric) from Belgium, tells us how she makes "the (ch) easyiest appetizers" for Christmas.

The (ch) easyiest appetizers you'll ever eat
"Puff pastry rolls with cheese, pesto and Italian ham – super tasty and easy Christmas appetizer.
You don't have to know how to cook to make this and everyone will love it."
Puff pastry rolls with cheese, pesto and Italian ham

Ingredients:
puff pastry
pesto
Italian ham, e.g. Serrano ham
greated parmesan cheese
egg yolk
How to make the appetizers:
// Roll out the puff pastry and spread with the pesto.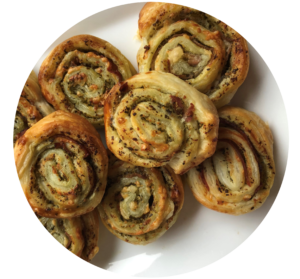 // Spread the ham over the entire pastry and sprinkle the cheese on top
//  Roll the puff pastry back up into a cylinder shape and turn the roll in a plastic film
// Put it in the freezer for 45 minutes
// Heat the oven to 190 °C
//  Take the roll out of the freezer and cut into circles of about 3cm
// Spread some egg yolk over it, so that the puff pastry becomes nice and crispy
// Put the rolls in the oven for 15-20 minutes
Remark: All statements without guarantee. Mitsubishi Electric assumes no liability with regard to quantities, times and temperatures as well as for the ingredients.
In case of any food allergies, please be aware that the receipes may contain or come into contact with common allergens, such as dairy, eggs, wheat, soybeans, tree nuts etc. Please check this in advance. In addition, temperature and quantity information may differ from country to country.