Understand the world with our app...
Solutions - Communication
13.02.2020
… and the world understands you. Ask your question, "Swipetalk" will do the translating. In 15 languages and at the touch of a finger.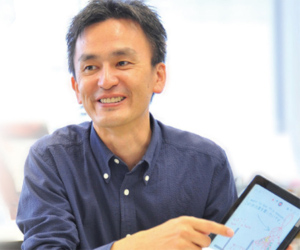 Making the spoken word visible. Our App makes it possible. With "Swipetalk" we break down communication barriers – when travelling, interacting with hearing impaired people or in meetings with participants from different countries. Therefore voice recognition, swiping on a tablet and drawing pictures will be combined.
The handling is very easy: Simply speak into the microphone of the tablet and swipe your finger across the screen. Et voilá – the spoken words appear on the screen. For example, a route description can be supplemented with the spoken and translated words at the touch of a finger.
Ideas connect people. The idea for the app had Masato Hirai, a developer at the Mitsubishi Electric Integrated Design Center in Kamakura, when he met with an intern who was hard-of-hearing. This project started from my desire to talk to her more, even though I didn't know how to use sign language" Hirai said. Under the direction of Masato Hirai, an app was created that enables exactly that – and much more.