Know-How is our foundation
08.11.2019
An interview with Holger Thiesen, Vice President & General Manager / Living Environment Systems at Mitsubishi Electric Europe, German Branch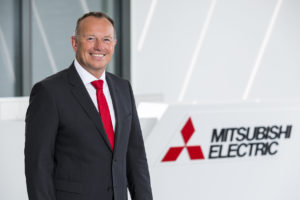 Mr. Thiesen, the new Mitsubishi Electric building in Ratingen has received the highest-possible environmental certification. At which point in the new building's planning process has the company decided to certify your own company building according to the LEED standard?

We are very proud to be working in a sustainable building. An important part of our corporate philosophy is our commitment to the
environment. Therefore, we decided even at the planning stage that the building would have to be sustainable. Together with the architects, we have transformed the idea into reality. We have taken care that our own energy efficient technologies are being used, for example our ventilating and heating as well as lift technologies. The low-voltages plants and all building management systems have been developed by Mitsubishi Electric and are being used in the building. Customers are always impressed when we are showing them our technologies during their everyday use.
How do your technologies make buildings more sustainable and energy efficient?
We offer our customers not only a single piece of technology, but holistic solutions with precisely matched products, intelligent comprehensive solutions, and fi rst-rate services. Thereby, we are giving the right answers to the technological challenges of modern building technology. We always focus on offering a comfortable environment to the people staying in the building. Sustainability can only work as part of a holistic package.
Mitsubishi Electric supports architects and companies in building sustainably. What is your goal for the future?
We want cities to be cleaner and to use the energy available to be used more efficiently. Mitsubishi Electric would like to make its contribution to society and to offer people a better life.