Merry Christmas from Germany!
Christmas is the time for delicious cookies, hot punch and tasty dishes. We asked our colleagues for their favorite Christmas recipes.
On December 1, Andreas Wagner (President of the German Branch of Mitsubishi Electric) tells us how he starts the Christmas season:
Chocolate cookies are part of the Christmas season for me

"When it's really cold outside and cozy and decorated inside, chocolate cookies are a part of it.
That's Christmas for me."
Chocolate cookies
Ingredients:
270 g flour
50 g baking cocoa (unsweetened)
120 g powdered sugar
1 pinch of salt
150 g cold butter
2 eggs
some flour for the dough
For the decoration:
Icing or chocolate coating
Sugar pearls or similar
Preparation:
// Mix flour, cocoa, powdered sugar and salt in a bowl. Add butter in pieces and egg.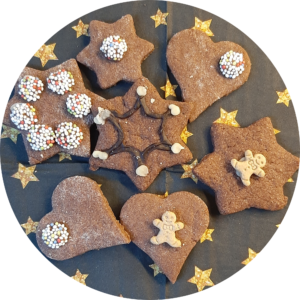 // Quickly knead with your hands to a smooth dough. Roll in plastic wrap, flatten slightly and refrigerate for at least 30 minutes.
// Preheat oven to 180 degrees (convection oven: 160 degrees).
// Roll out short pastry on a lightly floured work surface to a thickness of approx. 3 mm and cut out any motifs from the dough.
// Bake for 7-10 minutes, depending on the size of the cookies.
// Decorate the cookies when they have cooled down.
GOOD APPETITE!
Note: All data without guarantee. Mitsubishi Electric assumes no liability with regard to quantities, times and temperatures, nor for the ingredients. If you have food allergies, please note that the recipes may contain or you may come into contact with common allergens such as dairy products, eggs, wheat, soybeans, nuts, etc. Please check this in advance. In addition, temperature and quantity specifications may differ from country to country.