Merry Christmas from Germany!
Christmas is the time for yummy cookies, tasty punch and delicious dinners. We asked our colleagues to reveal their favourite Christmas recipes.
On December 13th, Kuniko Niki-Gröting (Assistant, Living Environment Systems Sales and Marketing Headquarter @ Mitsubishi Electric Germany), tells us how she prepares her special Christmas bread.

Christmas bread
"We bake this bread every year on 24th December, not only for us but also for the neighbours as a thank-you gift for the good neighbourhood.
This bread smells like "Spekulatius" which is a typical cookie in Christmas time in Germany. It takes about 3 to 4 hours to prepare it. A loaf tin (32 cm) is recommended."
Christmas bread
Ingredients:
350g strong white flour (type 405 or 550) plus extra for dusting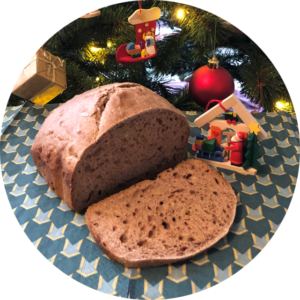 1 teaspoon salt
2 tablespoon honey
20g butter
1 1/2 tablespoon Spekulatius seasoning (Spekulatius-Gewürz)
240ml water
1 teaspoon yeast
30g hazelnut, chopped
30g walnut, chopped
30g almond, chopped
How to prepare the bread:
// Put the flour in a large bowl and make a well in the centre then add yeast, honey, chopped nuts, butter and water.
// Mix them lightly to make a pre-dough and leave to rise for 30 minutes in the oven with the lights on.
// Add salt to the dough and stir well for 5 minutes. Leave to rise for another 30 minutes. Grease the loaf tin with butter. Dust some flour on the dough and place it in the form. Proof to 30 minutes.
// Heat oven to 220C (top and bottom) and bake for 10 minutes. Reduce to 190C (fan) and bake for 50 minutes until it becomes golden brown.
Remark: All statements without guarantee. Mitsubishi Electric assumes no liability with regard to quantities, times and temperatures as well as for the ingredients.
In case of any food allergies, please be aware that the receipes may contain or come into contact with common allergens, such as dairy, eggs, wheat, soybeans, tree nuts etc. Please check this in advance. In addition, temperature and quantity information may differ from country to country.