Merry Christmas from Germany!
Christmas is the time for yummy cookies, tasty punch and delicious dinners. We asked our colleagues to reveal their favourite Christmas recipes.
On December 15th, Mareike Janßen (Coordinator Online Marketing, Corporate Communications @ Mitsubishi Electric Germany), tells us how she gets in the mood for Christmas.

Nougat cookies
"For all chocolate and nougat lovers, these are the right cookies here in the case and for me you belong to the Christmas season in any case."
Nougat cookies
Ingredients:
100g soft butter
200g nougat (cut into pieces)
300g flour
1 egg
1/2 teaspoon of baking powder
1 packet vanilla sugar
1 Pinch of salt
To decorate:
chocolate glaze
choped almonds
crocant
sprinkels
Preparation:
// Knead the butter and the nougat until it is very cremy.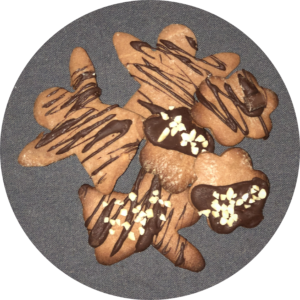 // Add the egg, the vanilla sugar and the salt and mix everything.
// Mix the flour and the baking powder and add those slowly to the nougat mixture.
// Form the dough into a ball and wrapped in fresh foil for 30 min. in the refrigerator
// Part the dough into two pieces and roll each out 3-5 mm thick.
// Bake the finished cut-out cookies at 160° convection oven for 10 min.
// After cooling down, decorate the cookies with the melted cuverture and let them dry.
Remark: All statements without guarantee. Mitsubishi Electric assumes no liability with regard to quantities, times and temperatures as well as for the ingredients.
In case of any food allergies, please be aware that the receipes may contain or come into contact with common allergens, such as dairy, eggs, wheat, soybeans, tree nuts etc. Please check this in advance. In addition, temperature and quantity information may differ from country to country.