Christmas is the time for yummy cookies, tasty punch and delicious dinners. We asked our colleagues to reveal their favourite Christmas recipes.
On December 17th,  Naveen Babu Chinta (Technical Specialist Engineer, High Precision Positioning Systems @ Mitsubishi Electric Deutschland) tells us his favorite recipe for the festive days:

Dryfruit Ladoo
"These tasty energy balls are my family's favorite sweet to make on festive occasions.
Dryfruit Ladoo is one of the best Indian sweet which is easy to prepare and loved by all the ages."
Trockenfrüchte Ladoo

Ingredients:
1 cup of Almonds – *prefer skinless
1 cup of Cashews
1 cup of Pistachio
1 cup of Walnuts
2+1/2 cup of Soft seedless Dates
1/4 tbsp of Nutmeg powder
1/2 tbsp of Cardamom powder
Preparation:
// Gently dry roast cashews, pistachio and walnuts in a fry pan one after the other separately for 2-3 minutes until slightly aromatic.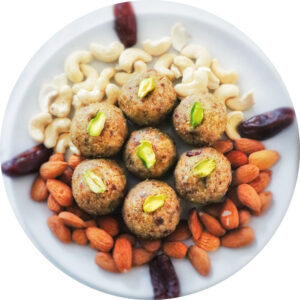 // Transfer the roasted dry fruits to the blender jar, now add Nutmeg powder, Cardamom powder and coarsely blend the ingredients until the nuts are finely chopped 80%(atleast 5-6 pulses of blending).
// Now add the seedless dates and blend for another 5 pulses until the mixture becomes thick and soft to touch.
// Take a small amount of blended mixture into the palms and gently rotate to make it as a small ball(Ladoo).
// Roll the Dryfruit Ladoo on the nut powder and repeat the steps with remaining quantity.
// The nutritious and tasty Dryfruit Ladoo is READY. Serve them or store in an airtight container
Note: All data without guarantee. Mitsubishi Electric assumes no liability with regard to quantities, times and temperatures, nor for the ingredients. If you have food allergies, please note that the recipes may contain or you may come into contact with common allergens such as dairy products, eggs, wheat, soybeans, nuts, etc. Please check this in advance. In addition, temperature and quantity specifications may differ from country to country.