Finding your way around safely - even without a steering wheel
Solutions - Communication
04.06.2020
Autonomous driving requires high-precision map material. One of the biggest challenges is to keep these maps up to date. We show how.
Dynamic landscape mapping with artificial intelligence
For safe autonomous driving, it is essential that the vehicles not only have precise positioning data at their disposal, but also high-resolution digital 3D maps – so that their own current position can be accurately identified. One of the challenges in map production is to keep the data up to date in view of the rapid changes in cities. Surveying at night or in out-of-range areas, such as in subway tunnels, is not easy either.
We have the solution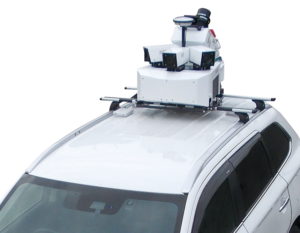 But Mitsubishi Electric's Mobile Mapping System (MMS) can respond to all these challenges and create accurate 3D maps for practical use.
And the implementation is extremely simple. The Mobile Mapping System is mounted on the roofs of vehicles that cover long distances every day, such as delivery vans. A combination of sensors, cameras and lasers collects data in real time while the vehicle is moving. This data is then incorporated into dynamic maps. Dynamic means that artificial intelligence only accepts and updates information that has changed, such as new traffic signs or road markings.
With the Quasi-Zenith Satellite System and the Centimeter Level Augmentation Service, which augments atmospheric signal interference, Mitsubishi Electric also supplies highly precise position data that brings us a further step closer to the steering-wheel-less car.