Merry Christmas from Deutschland!
Christmas is the time for yummy cookies, tasty punch and delicious dinners. We asked our colleagues to reveal their favourite Christmas recipes.
On December 8th, Sonja Theuerkauf (Lawyer in the Legal Department of the German Branch), tells us how she prepares her favourite Christmas cookies.

Vanilla crescent cookies
"Vanillekipferl are the best cookies for the best time of the year!
Together with my mom I bake masses of these cookies every year."
Vanilla crescent cookies
Ingredients:
300 gr. flour (wheat flour)
125 gr. sugar (finest sugar, not powdered sugar)
1 sachet vanilla sugar (or homemade mixture)
3 egg yolks
125 gr. finely ground almonds
250 gr. butter or magerine
To sprinkle:
2 sachets vanilla sugar (However, I prefer a homemade mixture of sugar and the pulp of at least 1 vanilla bean. This is much more aromatic.)
Preparation:
// Quickly knead all ingredients into a smooth dough and let it rest in a cool place for one hour.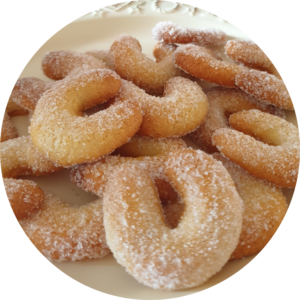 // Then form small croissants (Kipferl) from the dough, place them on a baking tray lined with baking paper and bake until light yellow to golden brown (depending on taste).
// Baking time approx. 10-12 minutes at 175-190°C
// Roll the still hot Kipferl directly in the vanilla sugar and let them cool on a rack.
Tip: If the dough becomes too soft while forming the Kipferl, simply place the dough in the refrigerator for some time.
Remark: All statements without guarantee. Mitsubishi Electric assumes no liability with regard to quantities, times and temperatures as well as for the ingredients.
In case of any food allergies, please be aware that the receipes may contain or come into contact with common allergens, such as dairy, eggs, wheat, soybeans, tree nuts etc. Please check this in advance. In addition, temperature and quantity information may differ from country to country.