Merry Christmas from Germany!
Christmas is the time for yummy cookies, tasty punch and delicious dinners. We asked our colleagues to reveal their favourite Christmas recipes.
On December 19th, Susanne Thormählen (Expert Corporate Communications @ Mitsubishi Electric Germany), tells us what are her favourite Christmas cookies.

Reindeer cookies
"The reindeer cookies are super delicious and look great on any cookie plate.
And actually they are almost too good to eat – but eaten up immediately."
Reindeer cookies
Ingredients:
250 g spelt flour (Type 1050)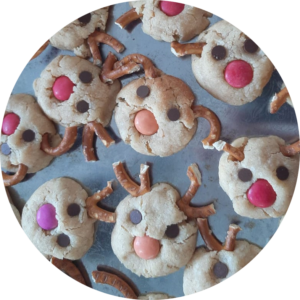 100 g Coconut blossom sugar
½ tsp baking powder
½ tsp vanilla powder
1 pinch cinnamon
½ tsp salt
200 g chunky peanut butter
80 g butter (room temperature)
1 egg
1 tbsp. milk
small salted pretzels for decoration
60 chocolate drops (bake stable)
30 red chocolate drops for decorating
// Mix flour, coconut blossom sugar, baking powder, vanilla powder, cinnamon and salt. Cut butter into pieces and add with peanut butter, egg and milk and knead into a smooth short dough. Refrigerate dough wrapped in plastic wrap for about 1 hour.
// In the meantime, cut small "Y "s from the salted pretzels for the reindeer antlers.
// Remove dough from refrigerator, knead briefly, form into a roll and cut into about 30 pieces. Form these into balls, place on a baking sheet lined with parchment paper and press flat. Decorate with chocolate drops as eyes.
// Bake cookies in preheated oven at 180 °C (convection oven 160 °C; gas: level 2-3) for approx. 8 minutes.
// Remove cookies and immediately insert "antlers" into cookies and decorate with chocolate drops as noses.
Remark: All statements without guarantee. Mitsubishi Electric assumes no liability with regard to quantities, times and temperatures as well as for the ingredients.
In case of any food allergies, please be aware that the receipes may contain or come into contact with common allergens, such as dairy, eggs, wheat, soybeans, tree nuts etc. Please check this in advance. In addition, temperature and quantity information may differ from country to country.