Merry Christmas from Germany!
Christmas is the time for yummy cookies, tasty punch and delicious dinners. We asked our colleagues to reveal their favourite Christmas recipes.
On December 22nd Sven Mülleneisen (Head of European Customer Support, Factory Automation CNC @ Mitsubishi Electric Deutschland), tells us what he bakes during the Christmas season:

Roasted Almonds –  in a Wok
"For a little Christmas (market) atmosphere at home, roasted almonds are a must."
Roasted Almonds – in a Wok
Ingredients:
200g almonds
200g sugar
100 ml water
10g vanilla sugar
1/2 teaspoon cinnamon
Preparation: 
// Put sugar with vanilla sugar and cinnamon in a wok and mix.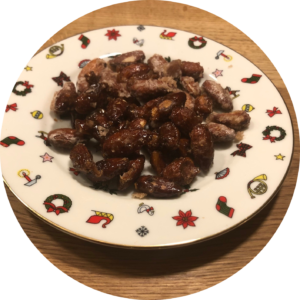 // Add water and let it boil without stirring.
// Add the almonds by stirring them gently at the highest temperature all the time.
// When the sugar becomes dry (white crystals appear), reduce the heat to medium, but keep on stirring.
// Stir the mixture until the sugar starts to melt and the almonds become glossy.
// Take them out of the wok and separate them with two forks, let them cool.
Remark: All statements without guarantee. Mitsubishi Electric assumes no liability with regard to quantities, times and temperatures as well as for the ingredients.
In case of any food allergies, please be aware that the receipes may contain or come into contact with common allergens, such as dairy, eggs, wheat, soybeans, tree nuts etc. Please check this in advance. In addition, temperature and quantity information may differ from country to country.